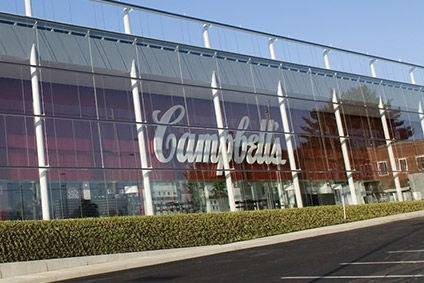 Campbell Soup Co. today (20 May) reported a fall in third-quarter sales amid a fall in sales on an organic basis across its three divisions – but the Plum Baby baby food and Arnott's biscuits maker upped its forecast for annual underlying earnings per share.
The US group booked a 2% fall in net sales to US$1.87bn for the three months to 1 May. Campbell pointed to the decline in organic sales and the impact of currency translation, which offset the benefit from last year's acquisition of salsa maker Garden Fresh Gourmet. On an organic basis, sales were also down 2%, driven by lower volumes and higher promotional spending.
Sales, measured on an organic basis, fell year-on-year across Campbell's three divisions of Americas simple meals and beverages, global biscuits and snacks and Campbell Fresh.
Third-quarter EBIT reached $268m, down from $285m a year earlier, amid higher investment in advertising and promotions. However, net earnings rose from $179m a year earlier to $185m.
Campbell now expects its full-year adjusted earnings per share to grow by 11-13%, up from the previous forecast of growth of 9-12%, or $2.93 to $3.00 per share. The company said the forecast includes an estimated 2 percentage-point negative impact from currency translation, as well as the impact of the Garden Fresh Gourmet acquisition.
The group narrowed its forecast for adjusted EBIT. Campbell expects adjusted EBIT to increase 11-13%, compared to its previous estimate of 10-13%.
Campbell's forecast for sales was unchanged. It sees sales to be flat year-on-year at best or down 1% at the lower end of its forecast range.
"Despite what continues to be a very challenging consumer environment, Campbell remains focused on becoming a leaner, more effective and efficient company. We're unsatisfied with our third-quarter organic sales growth, which was largely due to a weaker US soup season, some challenges in V8 beverages and a weather-related disruption to our fresh carrot supply," president and CEO Denise Morrison said.