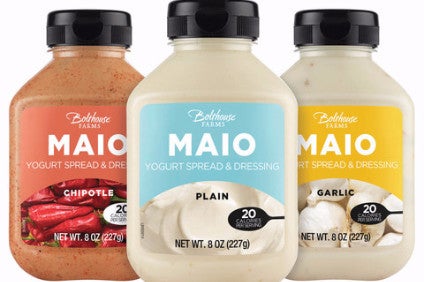 Campbell Soup Co. is looking to generate growth from its fresh division, the side of the business that houses brands including Bolthouse Farms and Garden Fresh Gourmet, through a focus on "breakthrough" innovation.
Speaking to just-food at the Natural Products Expo West trade show in California, Suzanne Ginestro, the CMO and general manager of innovation at the C-Fresh unit, said innovation is "part of our core strategy" to tap into rising interest in fresh products, particularly among millennial consumers in the US.
"The consumer shift toward fresh is accelerating. Recent research suggests that 78% of consumers are trying to eat more fresh food and we've seen an even more dramatic shift with millennials who exhibit a different approach to eating. Research has shown that twice the number of millennials versus non-millennials only shop in the perimeter of grocery stores," Ginestro explained.
Campbell formed C-Fresh to tap into those changes in US consumer demand following the company's 2012 acquisition of Bolthouse and the 2015 purchase of Garden Fresh. The unit has, however, come under recent pressure and, last month, Campbell reported an 8% drop in sales at its fresh division during its second quarter.
To try to revitalise sales and make its products more "accessible" to consumers, at Expo West Campbell detailed the launch of a number of products it hopes will prove the "breakthrough" innovation to expand its key Bolthouse and Garden Fresh Gourmet brands.
"The Campbell Fresh division aims to introduce breakthrough innovations in faster growing categories across the grocery store perimeter," Ginestro explained. By "providing more options across the fresh-refrigerated categories" the group hopes to expand its sales and support continued consumer excitement around this higher growth category.
The company is extending its Bolthouse brand into new areas with the pending launch of a plant-based protein milk. The product is made from pea protein, is nut free, soy free, non-GMO and, according to Campbell, has 50% more calcium than dairy milk. It will be available this summer in grocery channels throughout the US, the company revealed.
The group is also expanding its line of Bolthouse salad dressings with the introduction of a refrigerated yoghurt-based alternative to mayonnaise, Maio. This product will initially have a "limited release" in northern California Safeway stores and a number of Schnucks stores.
Also under the Bolthouse brand, Campbell is introducing a number of organic salad dressing options, including avocado ranch, blue cheese, raspberry balsamic and caesar vinaigrette flavours. Ginestro said the line aims to "address the growing consumer demand for organic products".
Meanwhile, products like Garden Fresh Gourmet soups "tap the growing popularity of fresh-refrigerated soup and small-batch production", she suggested. "Each innovation leverages a specific trend within the fresh category."