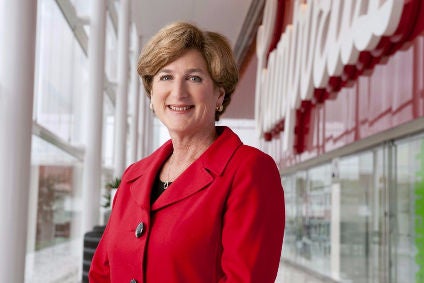 Campbell Soup Co. president and CEO Denise Morrison today (1 September) admitted she was "not pleased" with the US group's fourth-quarter results, which included declines in underlying sales and earnings.
On a reported basis, the Plum baby food, Pepperidge Farm snacks and Campbell's soup maker posted a net loss of $81m for the quarter to the end of July after a series of one-off items, including an impairment charge of US$141m. The company said it took the charge to reduce the "carrying value" of the intangible assets of its Bolthouse Farms carrot and carrot ingredients unit. Campbell made a reported operating loss of $37m.
Without the one-off items, Campbell still posted a 2% fall in adjusted earnings to US$253m and a 2% decline in adjusted EBIT to $253m amid higher costs from advertising and promotions.
On a reported basis, Campbell's net sales were flat at $1.69bn – but declined 1% on an organic basis.
"We finished the year in line with our guidance, including strong profit performance. However, I am not pleased with the results of our fourth quarter," Morrison said. "The performance of our Campbell Fresh business, driven predominantly by execution issues, is disappointing. We have taken and are taking steps designed to ensure the business performs to its potential."
Campbell's business is divided into three units – Campbell Fresh, Americas Simple Meals and Beverages and Global Biscuits and Snacks. Morrison said the company is "confident" about Campbell Fresh's strategy and its ability to "capitalise on the health and well-being consumer trend". Elsewhere, Morrison said the other two divisions had "delivered significant margin expansion, driving double-digit profit growth" during the year as a whole.
She added: "Despite the difficult quarter, we delivered adjusted EPS growth of 11% for the year. While we have made progress, we recognise we need to deliver sales growth – and it remains a top priority. Reflecting its confidence in our long-term growth prospects and strong profit performance this year, the board declared a 12% increase in our quarterly dividend today."
Campbell's shares were down 4.48% in pre-market trading today.
For the year as a whole, Campbell generated net earnings of $563m, down 15% on the previous 12 months. EBIT decreased 9% to $960m. Campbell's annual sales fell 1% to $7.96bn. On an organic basis, sales were also down 1%.
For the new financial year, Campbell expects its sales to fall in a range of being flat to up 1%. It expects adjusted EBIT to increase by 1-4% and its adjusted earnings per share to rise by 2-5%.