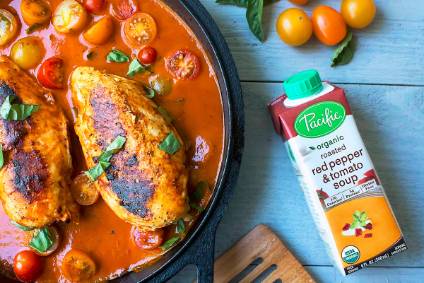 US food giant Campbell Soup Co. has completed the acquisition of natural produce business Pacific Foods which had been threatened by a lawsuit.
Campbell said in a statement yesterday (12 December) that the US$700m deal has now gone through.
The acquisition was first announced back in July and seen as an attempt by Campbell – most often associated with ambient food brands – to increase its exposure to faster growing health and well-being categories in the US.
Oregon-based Pacific Foods makes natural and organic broths, soups, plant-based beverages and meals.
But in September the deal came under threat when it emerged there was pending legal action against Pacific Foods.
The estate of co-founder Edward Lynch filed a lawsuit against Pacific Foods, certain directors and others, seeking more than $250m in damages.
At the time Campbell – not named in the lawsuit – said the action created an impediment to the deal closing.
But now, five months after the deal was announced, the issue has been resolved and the deal has completed.
Denise Morrison, Campbell's president and chief executive officer, said, "Pacific Foods is an excellent strategic fit with Campbell's health and well-being portfolio with its strong position in the faster-growing natural and organic category.
"We are thrilled to add such a powerful and respected organic brand to our company and intend to leverage our expertise and resources to build on Pacific's track record of sales growth."
Pacific Foods will be part of Campbell's Americas Simple Meals and Beverages division, which includes Campbell's soup, simple meals and shelf-stable beverage units in the US and Canada.
Joe Folds has been named as vice president and general manager, Pacific Foods. Folds has extensive, global experience leading businesses and brands for Campbell since joining the company in 1997.
Campbell said it plans to invest in the business to drive growth and expects to expand distribution, boost marketing support for brand building, and invest in R&D and the supply chain.
It expects that Pacific Foods will contribute approximately $100m in net sales in fiscal 2018.