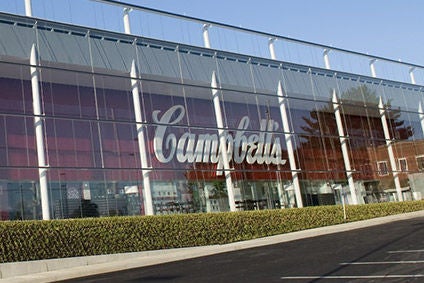 Campbell Soup Co. is creating an Accelerator unit as part of a reorganisation to better position the business to drive growth in fast-growing food categories.
The Accelerator arm will invest in "high-growth areas" and take responsibility for innovation, nurturing small brands, e-commerce and new distribution models, Campbell said.
As part of the reorganisation, the US group's Campbell Fresh, which includes brands like Bolthouse Farms, will be integrated into the new unit.
The revamp has also seen Campbell move its "core business operations" – including soup, beverages and snacks – into one division, headed by Luca Mignini, the president of the company's biscuits and snacks portfolio.
Mignini, who joined the company in 2013, has also been installed as Campbell's chief operating officer.
Denise Morrison, president and chief executive, said: "The transformative Snyder's-Lance acquisition served as a catalyst for us to re-examine how to best organise the company for increased emphasis on execution and profitable growth.
"This strategic reorganization – focused on our core, the integration of recent acquisitions, the Campbell Fresh turnaround and long-term growth – provides the right structure for us to optimise the value of our businesses today, while creating future-oriented capabilities.
"It will simplify our operations, improve our execution and enable us to allocate resources with a greater focus on profitable growth."
Campbell said Mignini will also take on additional responsibilities. He will lead meals and beverages, which includes US soup and simple meals, along with Plum, Pacific Foods, North America Food Service, and the Canada and Latin America businesses. Additionally, the new COO will oversee global product development within R&D.
Mignini said of the reorganisation: "Creating a single organisation across Campbell's core businesses will make us more agile and lead to more effective portfolio management to ensure that resources are invested in the areas with the greatest growth potential.
"My immediate focus is on maintaining momentum in our existing snacks portfolio, integrating Snyder's-Lance and Pacific Foods, and stabilising the US soup portfolio."
Campbell's US soup business has reported a series of sales declines in recent quarters.
The company's annual sales have fallen for the last two financial years.
In other developments on the personnel front, Campbell said a search is underway for a chief acceleration officer to lead the new business unit.
Ana Dominguez was named as president of Campbell Fresh. She succeeds Ed Carolan, who is leaving the company. Also, Emily Waldorf has been promoted to senior vice president for corporate strategy, while Carlos Barroso, currently the senior vice president for global R&D will move to a strategic advisory role within the Campbell Snacks business.