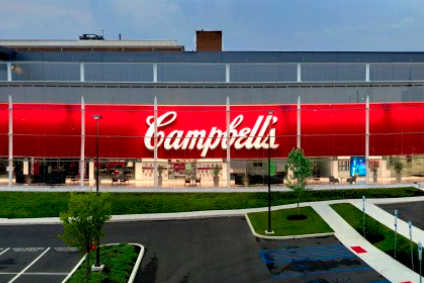 Campbell Soup Co. today (21 November) lowered its expectations for its annual underlying EBIT after rising costs hit the Pepperidge Farm biscuits and Plum baby-food owner's margins in its first quarter.
The US group now expects its full-year adjusted EBIT to fall by 2-4%, a cut from a forecast the company gave in August, when it predicted that metric could, at worst, fall by 1%, or, at best, rise by 1%, in its new financial year.
Campbell also cut its forecast for its full-year adjusted earnings per share, which it now sees falling by 1-3%, compared to its previous prediction of being flat to up 2%.
"Our bottom-line performance was negatively impacted by a lower adjusted gross margin rate due in part to cost inflation, higher carrot costs and escalating transportation and logistics costs following the hurricane season," Campbell president and CEO Denise Morrison said. "This was a difficult quarter, particularly for our US soup business. The operating environment remains volatile with a rapidly evolving retailer landscape and competitive activity pressuring the top line."
Campbell's first-quarter net sales fell 2% to US$2.16bn but the company maintained its forecast for annual net sales to be flat to down 2% year-on-year.
"The 2% decline in organic sales was largely due to the performance of our Americas Simple Meals and Beverages division, where US soup sales declined by 9%. Consumer takeaway decreased 2 percent in US soup while significantly lower retailer inventory accounted for the remaining decline. The sales decline was the result of one key customer's different promotional approach to the soup category for fiscal 2018, as we described last quarter. Importantly, our soup programme was well received in most of our other key customers, where consumer takeaway of our soup was up slightly," Morrison said.
"In Global Biscuits and Snacks, we continued to drive momentum with increased sales and operating earnings. Campbell Fresh sales were comparable to a year ago. In this challenging climate, we are focused on sharpening our plans for the remainder of the year while continuing to position Campbell for growth through investments to differentiate our brands, drive innovation and accelerate our e-commerce capabilities."