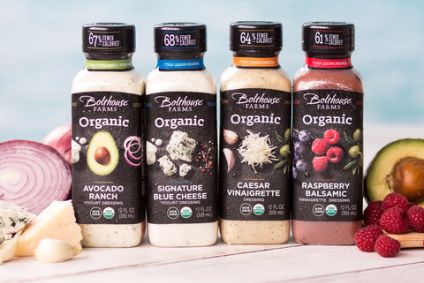 Campbell Soup Co. has launched a line of organic dressings under its Bolthouse Farms brand in the US.
The range of refrigerated organic dressings features five variants: Avocado Ranch, Signature Blue Cheese, Raspberry Balsamic and Caesar Vinaigrette.
The dressings are USDA-certified organic, non-GMO and are free from added preservatives and artificial flavours. The four flavours contain 60 calories and five grams of fat or less per serving.
"There is double digit growth for organic products across all food categories, including fresh produce which is growing four times faster than conventional," said Todd Putman, general manager of Campbell's C-Fresh CPG arm. "At Campbell Fresh, we're accelerating innovation across fresh-refrigerated categories to meet evolving consumer preference for healthier options; and the new Bolthouse Farms organic dressings align with the increased demand for organic offerings."
The new line of dressings will be available at HyVee, Schnuck's, Dierbergs, select Albertsons/Safeway stores and Amazon Fresh, a spokesperson for the company confirmed. The dressings are available in 12oz bottles at a price point of $4.49.
The spokesperson said the new products would compete with Litehouse Foods'-owned Litehouse Organic dressings with a 12oz bottle selling at $4.28; General Mills'-owned Annie's Organic Girl dressings retailing at $2.73 for an 8oz bottle and Lancaster Colony-owned Marzetti's Organic dressings retailing at $5.62 for a 12oz bottle.