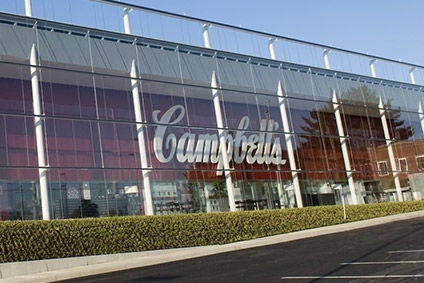 Campbell Soup Co. today (25 February) praised its profitability in its second quarter but admitted its sales, on an underlying basis, had come in below expectations.
The Plum Baby and Pepperidge Farm owner reported improved margins and operating profit for the three months to the end of January but saw sales, on an organic basis, were muted amid falling sales of ready-to-serve soup and beverages in the US.
"We're pleased with our results this quarter, especially our strong profit performance across all three segments. The highlight of the quarter was our continued gross margin expansion, which reflects improvements in productivity, net price realisation and improved supply chain execution. Our three-year cost savings program is also performing better than anticipated, and we have raised our 2018 target to $300m," president and CEO Denise Morrison said.
"Organic sales for the quarter were comparable to prior year, a bit below our expectation. While our Global Biscuits and Snacks division stands out for delivering both organic sales growth and strong profit growth in the quarter, we're making investments in all the divisions toward our objective of accelerating sales growth over time."
Campbell's second-quarter net earnings stood at US$265m, compared to US$222m a year earlier. EBIT increased 23% to US$414m. Excluding items impacting comparability in the current year, adjusted EBIT increased 26% to $423m, reflecting higher adjusted gross margins and the benefits from cost savings initiatives.
Sales decreased 1% to US$2.2bn, driven by lower volumes and the adverse impact of currency translation. On an organic basis, sales were comparable to the year before, with gains from Campbell's biscuits and snacks business offset by declines from its Americas Simple Meals and Beverages division.
For the first half of the year, net profit was US$459m, compared with US$470m a year earlier.
However EBIT was comparable to the prior year at $729m versus $726m. Campbell said first-half results were "negatively impacted" by mark-to-market losses associated with the interim remeasurement of certain US pension plans as well as charges incurred related to cost savings initiatives. 
Excluding these items, EBIT rose 24% to $902m.
Sales for the period fell 2% to $4.4bn.