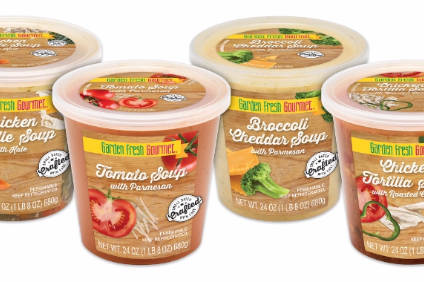 Campbel Soup Co. has launched a line of fresh soups in the US under its salsa-to-houmous brand Garden Fresh Gourmet.
The company said the move into the refrigerated deli section of grocery stores is the first category expansion for the brand since it acquired Garden Fresh Gourmet last year.
"Americans eat more than 10 billion bowls of soup each year, and the fresh refrigerated soup category is growing rapidly as consumers seek products that taste great, but have fewer, high-quality ingredients," a spokesperson said. "As we built this new line of soups, we were careful to adhere to the simple recipe instilled by the founders: gather the best ingredients, combine them in the perfect way, and sell them at a reasonable price."
The new soups are available from this month in four flavours – Chicken Noodle with Kale, Chicken Tortilla with Roasted Chilies, Broccoli Cheddar with Parmesan and Tomato with Parmesan. All varieties "are crafted using garden vegetables and herbs that are paired with recognisable ingredients like white meat chicken, beans and grains and on-trend foods like kale, roasted chillies, and ancient grains".
Garden Fresh said the soups "are crafted in small batches with artificial flavours, sweeteners, or preservatives, and are free of bleached flour, MSG, partially hydrogenated oils, hydrolysed soy protein, and HFCS. The new product line will be available across the US starting at US$5.99 for a 24oz container.