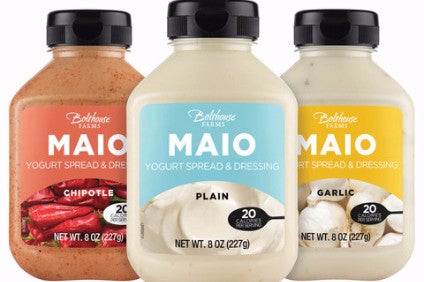 Campbell Soup Co. has launched an egg-free, mayo-style spread under its Bolthouse Farms brand in the US.
Bolthouse Farms Maio has been made with yogurt at its base, which Campbell believes will appeal to consumers who want to eat mayonnaise but, the company said, are wary of the amount of fat and number of calories in the condiment.
"The popularity of traditional mayo has remained flat over recent years as consumers have steadily turned to alternative options, but they aren't always satisfied with what they can find on-shelf," Suzanne Ginestro, the general manager for Campbell's C-Fresh innovation unit, said. "People like mayonnaise for the rich flavour and creamy texture, but are hesitant to indulge because of the calorie and fat content."
Campbell said the spreads have 20 calories and one gram of fat "per serving". The spreads, available in three varieties, have initially gone on sale in over 200 Safeway stores in northern California. The 8oz bottles have a suggested retail price of US$2.99.
A number of sectors in the US food industry have seen smaller companies offering products touted as healthier enter the fray and, to varying degrees, gain a foothold and shake up the established order.
The mayonnaise category has seen Just Mayo, an egg-free, mayo-style spread, make inroads. The product and owner Hampton Creek has attracted criticism. In 2014, Hellmann's owner Unilever launched a lawsuit against Hampton Creek for its use of the words mayonnaise and mayo on the branding and packaging of the product. Unilever claimed federal regulations meant mayonnaise had to contain eggs. It claimed its smaller rival was "stealing market share from Hellmann's".
Within two months, Unilever had withdrawn the lawsuit. In 2015, the US Food and Drug Administration said Hampton Creek was breaking labelling rules and asked the company to "correct the current violations". However, in December that year, an agreement between the FDA and Hampton Creek was announced that allowed the company to keep the Just Mayo name, with some changes to the labelling for the spread.
By February 2016, Unilever had launched a version of its Hellmann's mayonnaise in the US that contained no eggs.