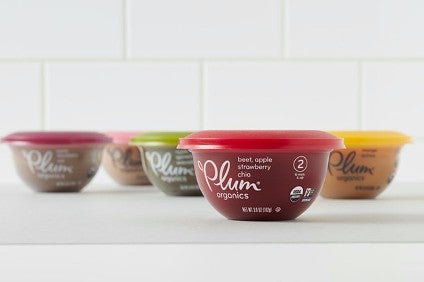 Campbell Soup Co. has launched another range of Plum Organics baby food in the US, with a line of food sold in plastic bowls it hopes will add some interest to a "stagnant" jar segment.
The company said its Baby Bowls would feature food containing organic ingredients such as avocado, turmeric, cauliflower and chia. The business has launched ten products.
"While our baby food pouches are widely popular, we know many new parents are still starting baby food with jars, giving us an opportunity to innovate the stagnant jar segment," said Ben Mand, senior vice president of innovation and marketing at Plum Organics. "It's crucial for us to meet parents where they are by providing a range of delicious organic options for different feeding occasions. As a brand by parents for parents, our goal is to have families' needs covered, whether they're at home or on-the-go."
The Baby Bowls can be bought at retailers including Amazon, Target, Wegmans and Kroger. They have a suggested retail price of US$1.29 per bowl.