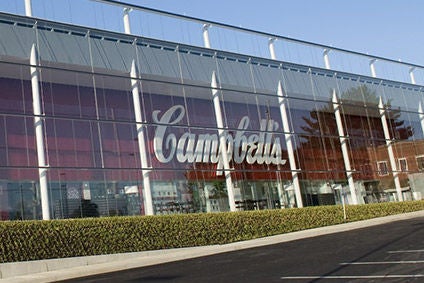 Campbell Soup Co. has outlined its strategy to ensure sustainable growth, which will focus on developing healthy and organic foods, growing its digital and e-commerce presence and boosting the company's expansion in new markets.
"Over the last five years, we've taken a number of bold steps to reposition the company for not just profitable, but sustainable growth," said president and CEO Denise Morrison.
"But we have higher aspirations for the food we make, the role we play in people's lives and improving our growth trajectory. That's why it's necessary to continue to relentlessly improve ourselves, our food, our business and our culture to further differentiate Campbell and to forge a meaningful and lasting place in the lives of new generations of consumers."
The company outlined its plans to capitalise on the growing consumer interest in health and wellbeing, and an increased concern over the provenance and quality of the food we eat.
It aims to focus its offerings on key growth areas such as packaged fresh food and the expanding organic and clean eating markets in areas such as juices, dressings, soups and salsas. It has set itself a long-term sales growth target for organic sales of 1%-3%.
In order to speed up the time it takes for a product to reach the shelf, Campbell is investing in a rapid innovation process to develop new Campbell Fresh products with the speed and flexibility of a start-up.
The first product from this effort, Bolthouse Farms Plant Protein Milk, is a non-dairy milk. Developed in a few short months, it is designed to tap into the alternative milks that have transformed the dairy category over the past few years.
"We believe real food should be made with recognisable, desirable ingredients from plants or animals. It should be responsibly crafted using ethical sourcing and sustainable practices that safeguard natural resources." said Morrison.
Campbell also said it will use only antibiotic-free chicken in its products, a transition that will be introduced over the next few years.
Another key element of the company's strategy is expansion into new, untapped markets, particularly in Asia.
Luca Mignini, president of Campbell's global biscuits and snacks business said the company wanted to muscle into the expanding snacks market and was aiming to boost sales of its brands, such as Kjeldsens in China and Tim Tam in Australia.
In China, the Kjeldsens brand will be receiving a boost thanks to increased marketing efforts in the key markets of Shanghai and Guangdong provinces, while expanding its distribution in key regions in the east.
The company plans to build its e-commerce capabilities in China to extend the Kjeldsens brand of butter cookies as well as to launch Tim Tam biscuits and Goldfish snack crackers.
Underlining the company's shift to digital and mobile platforms, Morrison revealed that it had spent nearly 40% of its advertising budget on digital and mobile platforms, compared to only 19% in 2015.
Campbell's said it had lowered its outlook for net sales, with expectations that they will decline by between 1%-2%. This is largely a reflection of the recent necessary recall of Bolthouse Farms protein drinks, as well as the impact of a major carrot customer moving to a new dual source arrangement.
The company said it still expected adjusted EBIT to increase between 11%-13%, and EPS to grow between 11%-13%.
Meanwhile, Campbell expects its cost savings initiatives to deliver $300 million in annual savings by the 2018 financial year. This saving is in addition to the company's ongoing supply chain productivity programme.
Looking ahead to 2017, Campbell said it predicts its adjusted gross margin percentage to increase slightly, and while inflation in its key ingredient and packaging areas had steadied, the company is forecasting a total cost of products sold inflation of approximately 2%. This includes higher wage and benefit costs and the adverse effect of a stronger dollar on the input costs of its international businesses.