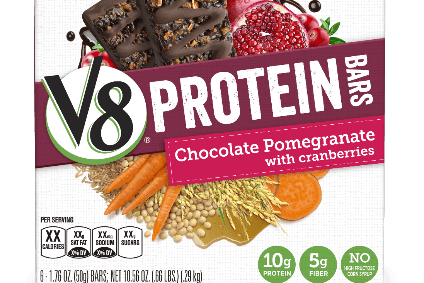 Campbell Soup Co. has decided to stop selling its V8 Protein range of bars and shakes in the US.
The products will no longer be on sale from May. Campbell said it had seen "strong consumer interest and distribution" of the products but admitted a "key learning" was the lines were "not differentiated enough to succeed in a crowded and competitive space".
Campbell announced the development of the V8 Protein bars and shakes in the summer of 2014 amid growing consumer interest in protein.
The company used a combination of dairy, soy, pea protein, brown rice and quinoa in the shakes, selling lines including chocolate, vanilla and chocolate raspberry. It developed three bar lines: chocolate peanut butter; chocolate pomegranate and oatmeal raisin.
It was the first time products other than juice had been sold under the V8 brand. Campbell said it would now focus on its "core V8 business", as well as trying to expand its V8 Blends and V8 +Energy lines.
When Campbell announced its second-quarter results last month, it reported a fall in sales from its US drinks business, which it said had been "primarily due to weakness in V8 V-Fusion beverages".