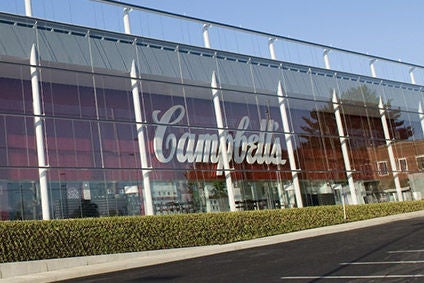 Campbell Soup Co. raised its full-year earnings forecast and lifted its cost-savings targets on the back of an "improved" gross margin performance and cost savings.
In a statement released ahead of today's (17 February) presentation to analysts at the Consumer Analyst Group of New York conference in Florida, Campbell said it anticipates net earnings to rise by 9-12% in fiscal 2016, compared to prior guidance of growth of 4-7%. Operating profit growth is also expected to come in ahead of current projections.
The company also said it expects EBIT to rise by 10-13%. Previously, Campbell predicted 4-7% EBIT expansion in 2016. For fiscal 2014, the company booked EBIT of US$1.32bn.
The forecast includes revised predictions for the impact of currency exchange – now expected to hit Campbell by two percentage points versus a negative three-point impact – and the acquisition of US salsa-to-houmous maker Garden Fresh Gourmet last summer, which is expected to contribute one percentage point to growth.
Campbell was able to increase its earnings forecasts because, it said, the company is achieving cost savings ahead of schedule. Campbell raised its total cost-saving goal from $250m to $300m, which it expects to achieve by the end of the company's 2018 financial year. For the current year, Campbell also increased the amount it believes it can deliver in efficiencies from a range of $80-100m to a range of $120-140m.
Campbell said improved gross margins will result in an increase in second-quarter EBIT of approximately 26%. The group is scheduled to report its results for the period to the end of January on 25 February.
While Campbell was bullish on the outlook for its earnings, the group continued to predict stagnant to slightly negative full-year sales. Revenue in the 12 months is expected to be flat to down 1%. Second-quarter sales will fall by approximately 1%, the group added.