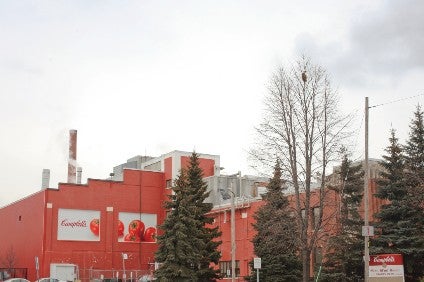 Campbell Soup Co. has decided to close a factory in Toronto, pointing to falling volumes of canned soup in North America.
The US food giant said the soup and broth made at the plant will be "consolidated" to other facilities in the US.
The Toronto site, opened in 1931, is also home to the headquarters and commercial operations of Campbell's Canadian arm. The company said it would move those functions to a new site "in the Greater Toronto area".
Campbell employs nearly 600 people across production, commercial functions and at its Canadian headquarters. Around 380 manufacturing jobs will be affected by the decision. It estimated the relocation of the headquarters, which will involve nearly 200 roles, will take place "in the next several months".
The company said declining sales of canned soup, as well as moves to improve productivity, had led to "excess capacity" across in its North American "thermal supply chain network".
Mark Alexander, the president of Campbell's simple meals and beverages operations in the Americas, said: "After a thorough review, we decided this was the best course of action for our business. We are operating in an increasingly challenging environment as our industry's consumer and retail landscapes continue to change dramatically."
Campbell plans to operate the Toronto facility for up to 18 months and will close it in phases. Production will move to plants in North Carolina, Ohio and Texas.
The moves are part of a programme Campbell announced in January 2015 to reduce costs and to streamline its business. In February last year, Campbell said it would build on those plans with savings from its supply chain. The changes in Canada are part of that second wave of initiatives.