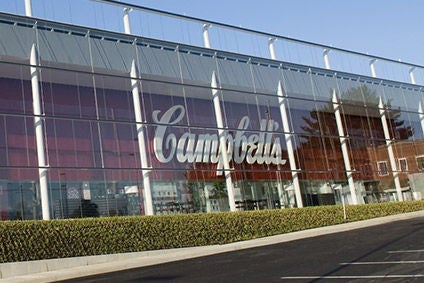 Campbell Soup Co. has announced it is to remove all Bisphenol A from its packaging by mid-2017.
In a press release the soup giant said it would complete a transition to cans which do not use BPA by the middle of 2017. It began using cans with linings made from acrylic or polyester materials in March 2016 and said it will continue to introduce the new linings across its US and Canadian portfolio through 2017.
Its move to non-BPA cans was announced in February 2012 following consumer feedback.
"Our priority throughout this transition has been, and will continue to be, food safety," said Mike Mulshine, senior program manager, packaging. "We have tested and conducted trials with hundreds of alternatives to BPA lining and believe the acrylic and polyester options will ensure our food remains safe, affordable and tastes great."
The products that will be packaged in non-BPA lined cans include all varieties of Campbell's soups and gravies, Swanson broth and Spaghettios pasta. The company said it is on track to have 75 percent of its soup portfolio in non-BPA lined cans by December 2016.
It is also currently testing alternatives to BPA coatings used on other packaging, including aluminium cans used for V8 beverages and metal screw top lids on glass jars.
The announcement comes however as press speculation suggests non-BPA advocates in California have been angered by a decision by the California Environmental Protection Agency to delay state-required warnings on cans lined with BPA. According to local publication The Press Democrat , the move comes as the CEPA is concerned "too-specific warnings could scare stores and shoppers in poor neighbourhoods away from some of the only fruits and vegetables available – canned ones."
ConAgra Foods announced its move to cans with non-BPA liners last July.