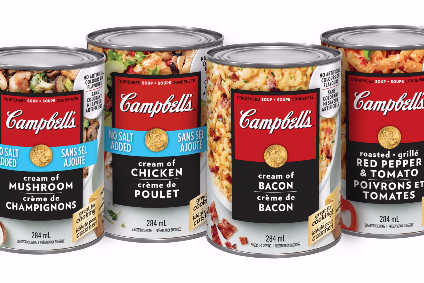 Campbell Soup Co. has said it is increasing the production of its soup products in anticipation of coronavirus-linked stockpiling.
Speaking after the release of its second-quarter financial results yesterday (4 March), the company's CEO Mark Clouse said the US food giant had been talking with some retailers to better understand what the shape of demand.
Speaking to business broadcaster CNBC, he said: "We made the decision last week to up production in certain areas where we're using a little bit the analogy of weather or natural disasters.
"Where do we see demand coming in a greater rate? And we've upped that level of production to be able to maximise our inventory to be prepared for whatever unfolds here."
Canned soup and other shelf-stable foods are the most likely items to be stockpiled by people fearing food shortages or an inability to get to the shops because of travel restrictions.
Clouse said New Jersey-based Campbell had noticed an increase in demand from both online and bricks-and-mortar retailers over the weekend but said it was still too early to call it a trend.
Clouse told the news agency Reuters Campbell had also begun building inventory for ingredients linked to products that are usually stockpiled during natural disasters, including canned soups, snacks and Prego pasta sauces.
"We're working very closely with folks to make sure that we keep them in stock," he said.
Clouse said SpaghettiOs canned pasta and Swanson canned chicken are also seeing higher demand.
Campbell's net sales were flat in its second quarter – on a year-on-year basis – at US$2.16bn but its adjusted earnings were up 4% at $364m.