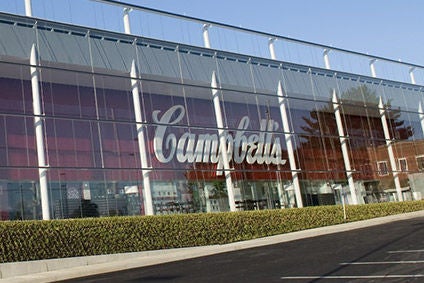 Campbell Soup Co. today (24 November) reported flat organic sales for the first quarter of its financial year, as a decline in US soup sales offset an improvement from its global snacks business.
On a reported basis, sales decreased 2% to $2.2bn in the three months to 1 November, primarily due to the foreign exchange rates. Campbell said organic sales were "comparable" to the corresponding period a year earlier as higher selling prices and a reduction in promotional spending were offset by lower volumes.
Campbell split its results into three new operating units – Americas simple meals and beverages; global biscuits and snacks; and Campbell Fresh. Sales from Americas simple meals and beverages dropped 2% to $1.3bn. Excluding the negative impact of currency translation, sales decreased 1%. US soup sales fell 3%.
Biscuit and snacks sales slid 6 percent to $652m but, stripping out foreign exchange, sales increased 2%.
At Campbell Fresh, sales increased 8% to $249m. However, excluding the impact from this summer's acquisition of Garden Fresh Gourmet, sales decreased 3% reflecting declines in carrot ingredients, fresh carrots and refrigerated soup.
EBIT fell 19% to $315m. Excluding items including restructuring costs, adjusted EBIT increased 23% to $479m on the back of higher adjusted gross margins and lower selling and marketing costs.
Net earnings stood at $194m, versus $248m a year earlier.
President and CEO Denise Morrison said: "We're encouraged by our first-quarter performance. While organic sales for the quarter were comparable to a solid prior year, we recognise that we have more work ahead to improve our growth trajectory. I am particularly pleased that we delivered a third consecutive quarter of adjusted gross margin expansion with improved execution in our supply chain."
Campbell said "an improved outlook" for margins and the increased negative impact of currency translation led it to revised its fiscal 2016 guidance. The new forecasts are now based off re-casted 2015 results for adjusted EBIT and adjusted EPS due to changes in accounting for pension and post-retirement benefits.
Sales are now expected to be flat at best or fall 1%, compared to the previous forecast of flat to 1% higher. Campbell expects adjusted EBIT to grow by 4-7%, up from its last estimate of growth of 3-5%. It also expects adjusted EPS to grow by 4-7%, again versus a forecast of growth of 3-5%.
Shares in Campbell were up 3.6% at $51.58 at 09:30 ET.