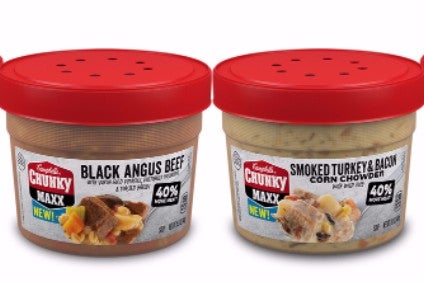 US packaged foods giant Campbell Soup Co. is pushing the health aspects of its new soup range Chunky Maxx.
The soups, which are in microwaveable heat-to-eat containers, are aimed at consumers who are seeking a higher protein fix.
The New Jersey-based company points to the soups – available in six "undeniably bold" flavours – containing 18 to 26 grams of protein per tub and 40% more meat than its Chunky soup range.
The flavours in the range include Bison Bacon Burger with Carrots & Potatoes and Grilled Sirloin Steak with Ham.
When Campbell's full year results came out at the end of August, its CEO Denise Morrison said: "We will continue to position Campbell for long-term growth by managing costs aggressively and re-investing a portion of those savings back in the business with a focus on our strategic imperatives of real food, digital and e-commerce, health and well-being, and snacking."