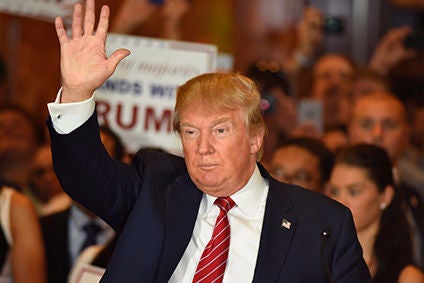 Canada can expected to see a "sharp increase" in food prices in 2017 as a result of higher import costs and the impact of the incoming Trump administration in the US, according to a new report.
Dalhousie University, a public research institution based in Canada, has forecast food prices in the country will rise between 3% and 5% in 2017 compared to 2016 levels.
The study cited the pressure on the Canadian dollar, as well as the possible consequences of the election of Donald Trump as US president on commodity prices.
Sylvain Charlebois, Dean of the Faculty of Management at Dalhousie University and the lead author of the report, said the "biggest factor" fuelling price increases will be the falling Canadian dollar, "given how many food products we import from abroad our food economy is vulnerable to currency fluctuations".
However, Charlebois added: "We're also expecting the upcoming Trump administration to have an impact on Canada's food prices. The new administration could create a period of US protectionism aimed at improving domestic issues at the expense of the international community, impacting agrifood and seafood exports. The administration's support of infrastructure and the development of the next farm bill in the US may result in subsidies to farmers and increased expenses, which could trigger a super cycle in grain prices and further push food prices higher."
Vegetables, fruits and nuts, are all expected to experience a sharp price rise in 2017, due to the need for imports, the report said. "Vegetables are expected to increase by 4% to 6% and fruit and nuts by 3% to 5%. Pork, fish and seafood are all expected to see increases in 2017."
There has been some speculation about the future of the North American Free Trade Agreement after Trump criticised the deal on the campaign trail. However, this week reports in the US have suggested the country could remain members of NAFTA under Trump.