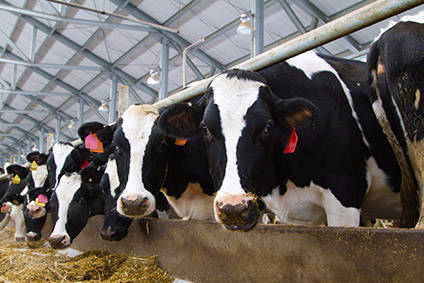 Canada's federal government has announced a CAD350m (US$259m) boost to support the competitiveness of the dairy sector, ahead of the expected entry into force of the Canada–European Union Comprehensive Economic and Trade Agreement (CETA).
CETA was adopted by the EU and Canada last month with the aim of offering companies in both markets improved business opportunities on both sides of the Atlantic.
Lawrence MacAulay, Canada's Agriculture and Agri-Food Minister and Chrystia Freeland, the country's International Trade Minister, said yesterday (10 November) the government investment would back two new programmes supporting the dairy sector.
The Dairy Farm Investment Program will receive CAD250m over five years to "provide targeted contributions to help Canadian dairy farmers update farm technologies and systems and improve productivity through upgrades to their equipment". Ministers said this "could include the adoption of robotic milkers, automated feeding systems, and herd management tools".
The second programme, the Dairy Processing Investment Fund, will receive CAD100m over four years to "help dairy processors modernise their operations and, in turn, improve efficiency and productivity, as well as diversify their products to pursue new market opportunities", the ministers said.
"This is an opportunity for Canadian dairy producers and processors to modernise their operations and become more competitive in Canada and in international markets," Freeland said. "I encourage producers to leverage the new market access provided by CETA and other free trade agreements in order to grow their business."
Industry body Dairy Farmers of Canada has said CETA "will result in an expropriation of up to 2% of Canadian milk production", which it said represents 17,700 tonnes of cheese "that will no longer be produced in Canada". The DFC said: "This is equivalent to the entire yearly production of the province of Nova Scotia, and will cost Canadian dairy farmers up to CAD116m a year in perpetual lost revenues."
DFC president Wally Smith said: "The government has taken a significant step in demonstrating their commitment to supply management, and to the continued innovation and growth of Canada's dairy sector. However, in order to ensure the continued sustainability and viability of supply management, there is still work to be done and the government has a significant role to play."