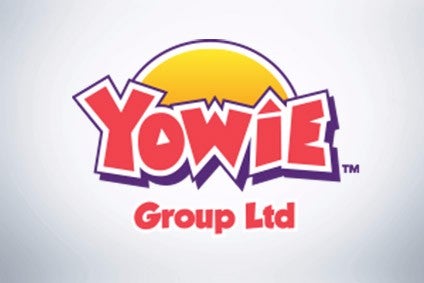 Yowie Group has again trimmed its forecast for annual sales – an estimate that is still for growth of 55% – with the Australia-based confectioner pointing to a delay in when it expects to book sales from its launch into Canada.
The company is forecasting it will post a 55% rise in sales for the year to the end of June, down from its previous estimate of growth of 70%. That forecast was a revision on previous prediction of an 85% jump in sales.
Yowie attributed the new forecast to the timing of the its launch into Canada, which had it gone ahead as scheduled would have contributed approximately US$1m to the company's fourth-quarter sales. Yowie said the sales "are now projected to be initiated" in the first quarter of its 2018 financial year, set to start on 1 July.
Similarly, a delay in the timing of the launch of products at Discovery World in the US, which was expected to contribute $500,000 in the fourth quarter of 2017 will now be launched in the opening three months of Yowie's 2017/2018 financial year.
"As a young company, unfortunately, any change by a customer to the timing of a planned programme in any given quarter will have a significant percentage change on our business," Yowie CEO and managing director Bert Alfonso said.
"However, having grown net sales from $2m in FY15 to $12.9m in FY16 to a projected $20m in FY17 we are outpacing all other brands in the confectionery-plus space by a wide margin."
Retail sales to Yowie's distributor in Australia were "running ahead of expectations", the company said, with fourth-quarter net sales reaching approximately $750,000, following $1.2m in the third quarter, with new accounts such as K Mart coming on-line.
Looking towards 2018, Alfonso forecast sales growth of between 55-70% "for both US and non-US", reflecting entry into the Canadian market, and "one additional international market", which he did not name.
Alfonso said: "In fiscal 2018 we anticipate that we will achieve positive EBITDA and positive net profits in the second half of the year. We remain confident regarding the prospects for the Yowie brand in both the US and selective international markets, and in our ability to grow rapidly in a highly competitive category."
He added Yowie's "five key strategies" were a focus on US and international expansion, developing "talent", innovative marketing, efficient manufacturing and, in the longer term, entering new categories.