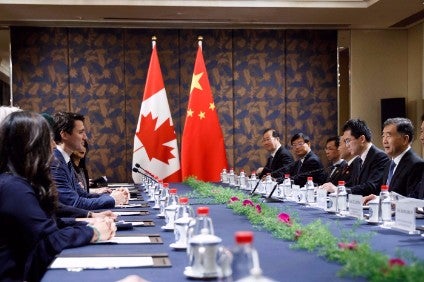 Canada has secured an agreement with China to ramp up meat exports in a deal potentially worth as much as CAD225m (US$175m).
Prime Minister Justin Trudeau wrapped up a trade mission to China yesterday (7 December) with the launch of a pilot project for the export of Canadian pork and beef from "approved" suppliers.
China also gave the green light to imports of Canadian frozen bone-in beef as part of a 2016 agreement between the two parties to work towards expanded market access for beef products.
Canada's meat industry estimates the increase in meat shipments to China could be valued at more than CAD100m for pork and CAD125m for beef over the next five years, according to a statement announcing the conclusion of the talks, which were also attended by Minister of Agriculture and Agri-Food Lawrence MacAulay and Minister of International Trade Francois-Philippe Champagne.
"This expanded access and ongoing exploratory discussions towards a comprehensive trade agreement help the Government of Canada's twin goals to grow Canada's agri-food exports to at least CAD75bn annually by 2025, and to double bilateral trade with China by 2025," the statement said.
MacAulay said of the deal: "China is a priority market offering significant economic opportunities for our Canadian farmers and food processors. A stronger Canada-China trade relationship will unlock the untapped potential in our two countries' agricultural ties, helping to expand the growth of the sector and create well-paying jobs for Canadians."
The Asian nation is Canada's second-largest trading partner, exporting more than CAD6bn in agri-food products in 2016, including frozen pork, soybeans, canola oil and dried peas.
Champagne added: "Canada and China are long-standing trading partners and expanding market access for Canadian pork and beef in this vast and growing market will lead to increased trade and investment. This is great news for Canadian farmers and exporters as we continue to pursue a progressive trade agenda that works for people and benefits the middle-class."