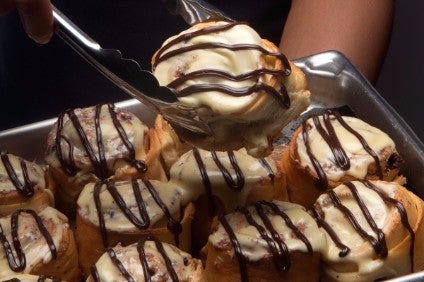 Canadian food business Cinnaroll Bakeries has been acquired by investment firms Skidmore Development Group and SouthPac Partners for an undisclosed sum.
Founded in 1987, Calgary-based Cinnaroll Bakeries is the company behind Cinnaroll by Baker Boys, a wholesale maker of branded baked products, and CinnZeo, a network of corporate-owned and franchised café style cinnamon roll stores.
Cinnaroll Bakeries owns and operates a 35,000 sq ft wholesale bakery facility, servicing grocery and foodservice customers across North America, and has 72 CinnZeo corporate retail and franchised locations in Canada, Mexico and the Gulf countries.
Skidmore Development Group and SouthPac Partners said they are committed to accelerate the growth of Cinnaroll's wholesale business in North America and to continue the expansion of the CinnZeo brand throughout the continent and internationally.
Skidmore Development Group, based in Burnaby, British Columbia, has traditionally targeted the retail, distribution, and real estate sectors. It is a member of the Thomas Skidmore group of companies.
SouthPac Partners, based in Vancouver, focuses on private operating businesses and real estate assets.
Cinnaroll Bakeries had not responded to just-food's request for a comment on the deal at the time of writing.