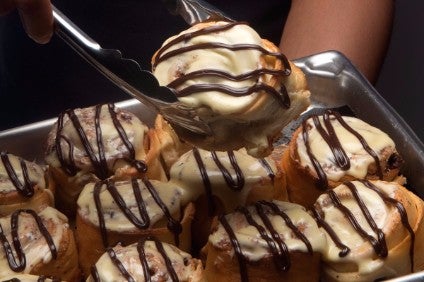 Canadian food business Cinnaroll Bakeries has appointed a new CEO just a month after it was taken over by two investment firms.
Calgary-based Cinnaroll Bakeries is the company behind Cinnaroll by Baker Boys, a wholesale maker of branded baked products, and CinnZeo, a network of corporate-owned and franchised café style cinnamon roll stores.
It was acquired by investment firms Skidmore Development Group and SouthPac Partners last month for an undisclosed sum.
New CEO Turner has more than 25 years of experience in strategy development, distribution and general management, although his most recent role was not in the food sector. Prior to joining Cinnaroll, he was director, sales strategy and distribution for Canadian low cost airline WestJet.
Previously, he has held CEO, president, COO and executive/director roles with private and public companies in western Canada.
"Cinnaroll Bakeries is well positioned for growth in all areas and I am excited to have the opportunity to work with our experienced management team and board to expand our sales, operations and brands," he said.
Cary Skidmore, director and chairman of Cinnaroll, said: "We are delighted to have Brad Turner take on this leadership role at Cinnaroll. His deep sales experience and background in hospitality and international operations will be critical in executing on our ambitious growth plans."
Cinnaroll's co-founded Barry Wolton acted as the company's CEO and president before the business was sold.
Under the Baker Boys brand, established in 1993, the business supplies a wide variety of baked goods to the grocery store, convenience store and foodservice industries throughout North America.