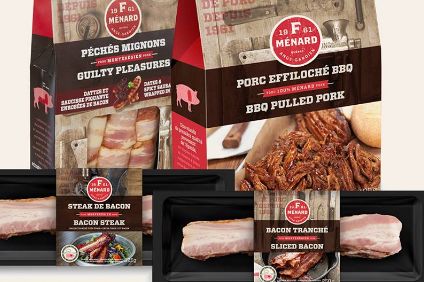 La Coop Fédérée, which says it is the largest agri-food company in Quebec, is to buy the pork and milling assets of local processor F. Ménard.
The terms of the deal were not disclosed. F. Ménard's poultry assets are not part of the transaction. The acquisition remains subject to approval from Canada's competition regulators.
The pork assets of F. Ménard, a family-owned business also based in Quebec, will be managed by Olymel, La Coop Fédérée's business in the sector. The assets take in business that ranges from genetics to marketing, including animal feed, breeding, slaughtering and processing. With an annual production of over 1.1 million hogs reared in over 300 farms, the assets represent 15% of all Quebec production. The deal covers the acquisition of hog farms owned by F. Ménard, three plants and two butcher shops.
In milling, the operations have an annual production in excess of 500,000 tonnes. The assets include two mills, as well as grain storage and drying facilities in Sainte-Brigide-d'Iberville.
F. Ménard's, executive director, Luc Ménard, said: "After long strategic reflection, the decision to sell the company proved to be the best solution to ensure a promising future for F. Ménard. A Canadian buyer such as La Coop fédérée and its Olymel and Sollio Agriculture divisions was an obvious choice for the company's future. This buyer with deep roots in Quebec has a growing presence in Canada and unique experience with agri-food processing and related markets, here and around the world."
A range of products are sold under the F. Ménard in Canada more than 30 other countries. F. Ménard launched a retail brand, Le Meilleur Bacon, in 2017.
Réjean Nadeau, president and CEO of Olymel, said the deal was "another step in Olymel's growth", adding: "I see this agreement as a union of two passionate companies joining forces to better face increasingly fierce competition, especially in international markets. Together, we will take advantage of new synergies and increased capabilities to offer our customers and consumers high-quality products and excellent service."