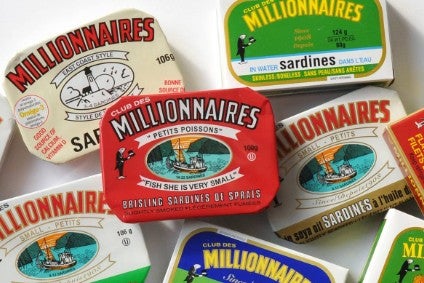 Ocean Brands, a Canada-based supplier of canned seafood, has acquired Club Des Millionnaires from local ingredients manufacturer Harold T. Griffin for an undisclosed sum.
Located in Richmond, Ocean Brands product portfolio includes Gold Seal and Salmon and Ocean's Tuna. The company is a division of Canada's Jim Pattison Group, whose operations span food and beverages, real estate and entertainment, along with a range of other businesses.
Club Des Millionnaires is a Canadian brand of canned sardines and anchovies. The firm produces small sardines (brislings) called "Small – Petits" under the tagline 'Fish She is Very Small'.
"We are very pleased with the acquisition of Club Des Millionaires," said Ian Ricketts, the president of Ocean Brands."Today's consumers have an increased demand for natural sources of omega-3, protein, and sustainably sourced seafood. Club Des Millionaires is a perfect complement to the high quality, sustainable seafood products we offer consumers under our Gold Seal and Ocean's brands."