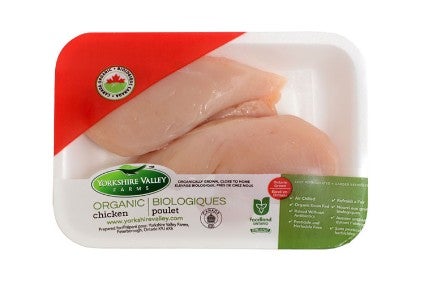 Canada-based foods producer Premium Brands Holdings has bought a majority stake in Yorkshire Valley Farms, a processor of organic chicken products in Ontario.
For an undisclosed sum, Toronto-listed Premium Brands has acquired a 62.6% shareholding in Yorkshire Valley Farms.
Yorkshire Valley Farms was founded in 2010 by a group of farming families led by Tony Ambler and Tom Ahrens. It has a 40,000 square-foot processing facility in Harriston, Ontario.
Headed by president James Sculthorpe, the company is one of Canada's top producers of organic fresh and frozen chicken, mainly under its namesake brand, and with annual sales of around CAD65m (US$49.8m). It also has a branded protein business.
George Paleologou, president and chief executive of Premium Brands, said: "Organic protein products are growing faster than the overall category in both Canada and the US. This transaction, which combines the unique strengths of Yorkshire with our wide range of resources and capabilities, strongly positions Yorkshire to accelerate its growth in this rapidly expanding market segment."
Tom Ahrens, co-founder and director of Yorkshire Valley, said the company's employees would not be affected by the deal.
Tony Ambler, the other co-founder and chairman, added: "We are very proud of what we have accomplished over the last eight years and have no doubt that Premium Brands is the right partner to help us continue our legacy of raising and producing high quality chicken in Canada."