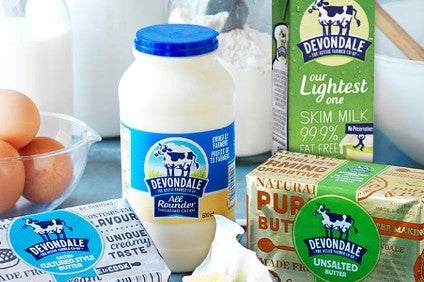 Canada's Saputo has agreed to buy struggling Australian dairy cooperative Murray Goulburn for CAD1.29bn (US$1bn), ending months of speculation over a potential suitor.
The acquisition was recommended by Murray Goulburn's board of directors on a debt-free basis and will be financed through a new bank loan, the Canadian firm confirmed in a statement late yesterday (26 October). The transaction, which is subject to the approval of the co-op's shareholders and Australia's competition watchdog, is expected to be finalised in the first half of 2018.
Saputo said the purchase of Murray Goulburn will complement its existing dairy business in Australia.
Murray Goulburn said the sale will include all of its operating assets and operating liabilities, including milk supply commitments. The co-op is to retain all assets and liabilities associated with the listed MG Unit Trust, as well as any liability in relation to three matters: the Australian Competition and Consumer Commission proceedings facing the business over alleged misleading representations; an investigation into the co-op by corporate regulator The Australian Securities Investment Commission; and a unit holder class action launched earlier this year against the trust.
The agreement with Saputo is the latest chapter in a tumultuous 18 months for Murray Goulburn. In April 2016, the company, pointing to weak dairy commodity prices, issued a profit warning, cut the price it pays farmers for milk and announced the departure of its MD and CFO.
The co-op then had eight months without a permanent CEO until former SABMiller executive Ari Mervis was appointed last December. In June this year, Murray Goulburn launched a "comprehensive" review the business said will look at "all aspects" of its strategy and corporate structure.
In the financial year to the end of June, the Devondale milk owner booked a net loss after tax of AUD370.8m (US$284m) and a 10% fall in revenues.
Even so, a number of companies had shown interest in buying the dairy company, including Fonterra, Chinese dairy firm Yili, Lactalis-controlled Parmalat and Australian group Bega Cheese.
Saputo is to inherit a business that produces drinking milk, milk powder, infant formula, cheese, butter and beverages, and takes in brands such as Devondale and Liddells.
Quebec-based Saputo classes itself as one of the top ten dairy processors in the world. The company's brands include those under its namesake, Dairyland, Nutrilait, Stella and Sungold. In the quarter ended June, its revenue climbed almost 10% to CAD2.9bn, while net earnings rose 13% to CAD200m.
Saputo's operations in Australia include Warrnambool Cheese and Butter Factory (WCB), in which it acquired a majority stake in 2014 after a takeover battle against Bega Cheese and Murray Goulburn. It snapped up the rest of the shares in WCB earlier this year.