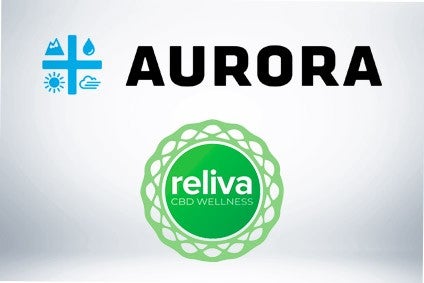 Canada's Aurora Cannabis has moved into the US market through the acquisition of peer Reliva in a deal that could be worth up to US$85m.
Both Aurora and Reliva market a wide-range of hemp-derived CBD products including edibles. Edmonton-based Aurora produces CBD-laced dark chocolate, cookies and gummies while Reliva, based in Natick, Massachusetts, also produces gummies.
Aurora said entry into the US is aligned to its business transformation plan.
Its interim CEO Michael Singer said: "Together, Aurora and Reliva will partner to create an international cannabinoid leader that we believe can deliver robust revenue and profitable growth."
"We have taken the time necessary to carefully assess the company's entry into the US market and we firmly believe that the combination with Reliva will create significant long-term value as Reliva provides us options to grow in hemp-derived CBD internationally."
Reliva CEO Miguel Martin said: "We were fortunate enough to be able to choose our long-term partner and believe this partnership provides a significant opportunity to accelerate sales growth for Reliva in the United States and internationally."
Under the terms of the deal, members of Reliva will receive approximately US$40m of Aurora common shares. The transaction also includes a potential earn-out of up to a maximum of $45m payable in Aurora shares, cash or a combination over the next two years contingent upon Reliva achieving certain financial targets.