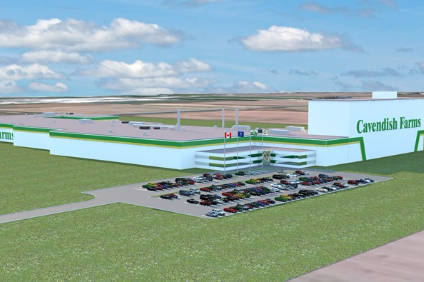 Canadian frozen potato products group Cavendish Farms is to replace an "ageing" plant as part of plans to expand production.
Cavendish Farms is to build a new facility in Lethbridge, Alberta, at a cost of CAD350m (US$366.6m).
The company said the approval by Lethbridge City Council for the purchase of land on the Sherring Industrial Park "is the first step" towards replacing its existing ageing plant in Lethbridge.
Construction is expected to start next spring and be completed by summer 2019. Cavendish said the new plant will allow the company to "more than double its annual production capacity to meet growing demand and will be more efficient, reducing our carbon footprint".
Cavendish said its investment "is anticipated to create demand for an additional 3,640 hectares of potatoes, which will create greater opportunities for local producers, increase the province's value-added food processing capabilities and also provide more jobs and benefits for the local economy".
Cavendish president Robert Irving added: "The opportunity to expand in Lethbridge, and remain within the region is very important to us. Lethbridge has provided Cavendish Farms with a cross-Canada presence that has helped fuel our growth and allowed us to reach key markets."
Family-owned Cavendish, which also produces frozen appetiser products for the North American and international food industry, operates four potato processing plants – two on Prince Edward Island, one in Lethbridge and one in the US, in Jamestown, North Dakota. The company also operates a fifth plant specialising in appetiser products in Wheatley, Ontario.