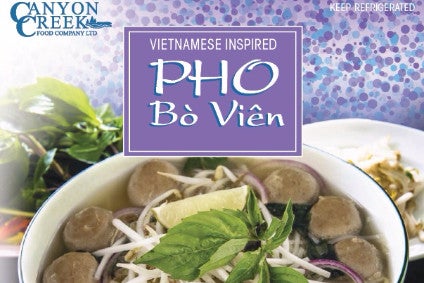 Canada-based food group Canyon Creek Food Co. has secured its first listing in the US, with a soup product to go on sale next month.
The company is to sell a Vietnamese Pho Bò Viên refrigerated soup at stores in the Los Angeles area.
"This is a big step forward for Canyon Creek," president and CEO Terry Alty said. "We will gain an understanding of consumer preferences and strengthen our brand in a large and diverse market. We focused on the L.A. area for our US launch, both because of the concentration of our target demographic, and because southern California is a known excellent incubator for the building of brand awareness. Beyond that, the southern California market is a national trendsetter."
Speaking to just-food, Alty declined to comment on the identity of the retailer at which the soup would be sold.
He claimed the product was "relevant and on-trend with a broad range of consumers" and added: "In our research we have not seen a Fresh Pho Kit in any North American market."
Alty said told Canyon Creek expects "over the course of 2016 to gain distribution with other retailers in the US".