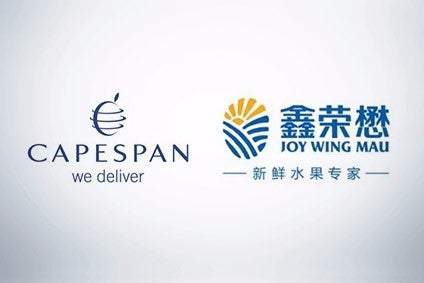 Fresh produce supplier Capespan has announced a joint venture with Joy Wing Mau to expand its presence across Asia.
The owner of the Cape brand said the Asian region represents the fastest growing fruit market in the world. In recent years, Capespan has extended its market access into significant parts of this region mainly through its Hong Kong-based business, Metspan, as well as Capespan Japan.
The new joint venture will operate under the brand Joy Wing Mau Asia. From April 2017, Metspan and Capespan Japan together with Joy Wing Mau's Asian business will be absorbed into the joint venture Joy Wing Mau Asia.
Capespan said the deal would "instantly present all of Capespan's suppliers with unparalleled access into the entire Asian market, supported by Joy Wing Mau's unrivalled distribution and service infrastructure and experience".
"Joy Wing Mau has enjoyed a long and successful partnership with Capespan. It is an absolute natural fit for our businesses to pursue a wider cooperation within Asia by combining our infrastructures and experience towards greater access to markets for our suppliers and greater access to fruit for our market customers," said Mau Wah Liu, chairman of Joy Wing Mau. "Both Capespan and Joy Wing Mau have a loyal and reliable supplier base as well as established market presence. Jointly, we can ensure that our suppliers and customers receive unparalleled solutions within the Asian markets."
Tonie Fuchs, managing director of Capespan, added: "We are very excited about this new venture with Joy Wing Mau. They are undisputed pioneers within the Asian region and we know that our joint services solution will present greater efficiencies, service levels and opportunities to our grower and market customers. We believe this is an innovative solution for Capespan and its suppliers in a high growth market with unique challenges and opportunities."