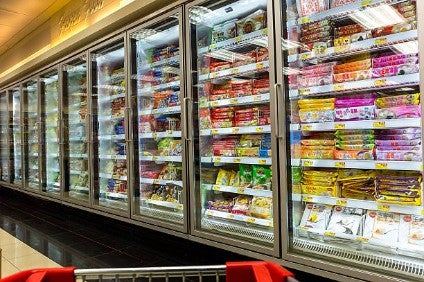 The European carbon dioxide shortage is starting to impact UK retailers, reports suggest.
Retailers are said to be running out of dry ice – the solid form of carbon dioxide – for their freezer cabinets and some are limiting online deliveries of frozen food.
On Thursday (21 June), it was reported meat suppliers are facing up to the prospect of their output being affected as European stocks of CO2 hit a record low.
Much of the food industry is dependent on the gas as slaughterhouses commonly use it to stun and kill animals.
A statement from the British Retail Consortium, sent to just-food, said: "We are aware of some issues with the current supply of carbon dioxide across Europe. Carbon dioxide is an important input in food processing and retailers are working hard in conjunction with their suppliers to ensure food availability is maintained."
But it added: "The majority of food products are unaffected by the shortages in CO2."
And John Hyman, chief executive of the British Frozen Food Federation, said: "We are in the process of investigating these reports further and will continue to communicate with our members throughout this process while we establish the facts around the root cause," he said.
"We are currently working with members to establish if they are affected by the shortage and how any potential issues can be mitigated as smoothly as possible."
Industry watchers say the supply position tightened in April, driven by the usual turnaround of maintenance procedures in ammonia plants and then started to become critical when other plants associated with bio-ethanol and chemical production were shut down for maintenance or for technical issues.
The UK's GMB union, which represents energy sector workers, has called on the Government to intervene to protect the country's interests.
Stuart Fegan, GMB national officer, said: "We have the skills and the infrastructure in the UK to supply our own gases.
"Time and again Britain relies on market forces to supply essential products to the UK economy – it is just not working."
On Thursday the British Poultry Council (BPC) asked gas producers to put slaughterhouses at the top of their customer delivery list.
BPC chief executive Richard Griffiths said: "With the supply of CO2 tightened across Europe, the British Poultry Council is calling on all major gas producers to prioritise supplies to slaughterhouses and keep the food chain moving."