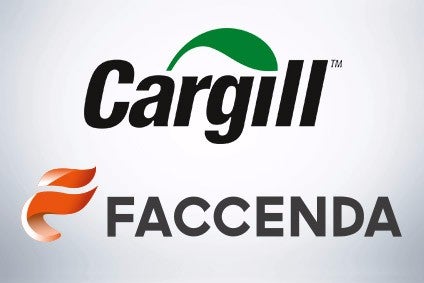 US agribusiness giant Cargill is forming a 50-50 joint venture with the UK's Faccenda Foods to supply chicken, turkey and duck.
Cargill's fresh chicken business in the UK will be merged with Faccenda's fresh chicken, turkey and duck lines to form a stand-alone company, with approximately 6,000 employees coming from both entities, according to a statement today (25 September). The venture is subject to regulatory approval and a name will be announced at the completion of the deal.
Andy Dawkins, the managing director for Faccenda Foods, will be appointed CEO of the newly formed company, while Chris Hall, the fresh chicken director for Cargill's European meat business, will be appointed chief commercial officer.
Separately, the statement said Cargill will continue to process and sell cooked poultry products in the UK at Balliol, Wolverhampton, as well as operate its poultry import, trading and distribution business. Cargill will also continue to operate its European poultry businesses in France, Russia and the Netherlands. Faccenda will retain its shareholding in another UK poultry business, Dartmouth Foods.
Chris Langholz, the president of Cargill's poultry division, said: "Combining into one entity allows us to build on our strengths, grow in the market and better serve our customers. The venture will facilitate greater opportunities to innovate and deliver new and exciting poultry products for consumers."
Faccenda Foods' CEO Ian Faccenda said "this is an exciting time".
"We are bringing together talented people from both businesses with complementary values and expertise, and giving them the opportunity to develop and be successful in a new business with the capability to grow," Mr Faccenda said.
Faccenda's poultry business consists of laying farms, breeder farms, hatcheries, two feed mills, grow-out facilities and six poultry processing facilities, the statement said. The company processes just over 2m chickens a week and 4.5m turkeys and 5.5m ducks per year.
Cargill's fresh chicken business is made up of laying and breeder farms, hatcheries, a feed mill, grow-out facilities and three poultry processing facilities. Cargill sources birds from a network of farms, primarily independently owned, and processes approximately 2.1m birds a week.
Meat processing is part of the wider Cargill agribusiness empire and the company has been looking to expand in other markets in recent months.
In June, Cargill entered Colombia with the acquisition of local chicken and processed meats products firm Pollos El Bucanero.
In April, Cargill said it was investing US$12m to expand its cooked egg facility in Iowa, and in November said it would spend US$50m to expand poultry processing operations at its plant in Thailand's Nakhon Ratchasima province.