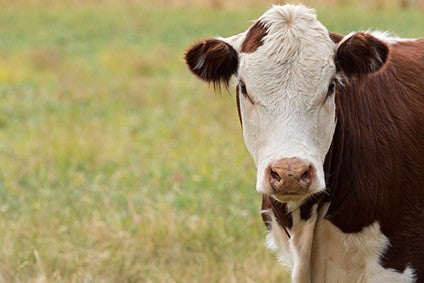 US agri-food giant Cargill has set out plans to tackle greenhouse gas emissions from its beef supply in North America.
The company has pledged to lower "greenhouse gas intensity" by 30% by 2030.
A Cargill spokesperson told just-food: "While both a reduction in intensity and an absolute reduction in GHG emissions are effective and scientifically accepted metrics to measure impact, they are not the same thing. Cargill's BeefUp Sustainability programme is setting an intensity goal which translates into reducing the supply chain CO2-equivalent greenhouse gas emissions associated with producing a pound of product from the cattle we process.
"From a GHG perspective, the North American beef supply chain is already 35% more efficient than the global average. Our 30% reduction goal will build on the beef industry's leadership in North America and reduce emissions even further by tapping into innovations in sustainable grazing practices, feed innovations, row crop sustainability and food waste reduction."
Announcing the move, Cargill said the BeefUp Sustainability programme works back "from a 2017 baseline, measured on a per pound of product basis". Efforts will focus on grazing management, feed production, innovation and food waste reduction.
"Significantly reducing GHG requires change across the entire supply chain," Heather Tansey, sustainability lead for Cargill's global animal nutrition and protein businesses, said. "We know the time to act is now and that agriculture can be part of the solution. We're investing in science-based practices and have identified focus areas that will ensure we have the greatest environmental impact."
Part of the programme will see Cargill work with The Nature Conservancy, an environmental group with which has collaborated on areas such as irrigation.
Over the next three years, Cargill and The Nature Conservancy will work with farmers and ranchers on grazing management.
"There has been progress over the years across the industry and there is much more that we can do together," Sasha Gennet, director for North America sustainable grazing lands strategy at The Nature Conservancy said. "We are committed to achieving a productive food system that improves water quality and wildlife habitat while reducing GHG's. Leveraging Cargill's network allows us to drive change at a meaningful scale."