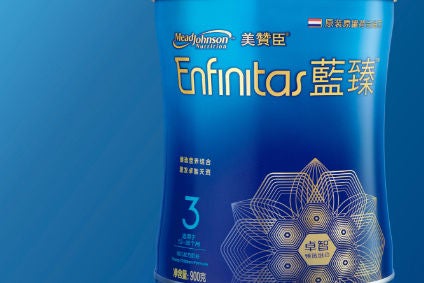 Following the launch of a review in February of Reckitt Benckiser's infant-formula business in China, a report has emerged naming potential buyers of the business.
Sky News' sources say US-based private-equity firm The Carlyle Group and Inner Mongolia Yili Industrial Group, the Chinese dairy business generally known as Yili, are among a number of parties interested.
UK-based consumer goods firm Reckitt initiated the review in February for the Chinese unit of Mead Johnson, the US infant-formula producer it acquired in 2017, along with the Enfinitas formula brand.
Sky News said Carlyle and Yili were preparing to table offers before a supposed deadline on Thursday (6 May), along with 'several other financial and strategic bidders'. A potential deal is expected to fetch around US$2bn, according to the news agency's sources.
Reckitt declined to comment on the proceedings when contacted by just-food.
CEO Laxman Narasimhan said in the company's annual results commentary in February that it was "taking decisive action to strengthen our portfolio with a strategic review of the infant-formula business in Greater China already underway".
Reckitt said at the time the performance of its infant-formula business in China, which represents around 25% of its nutrition division, was adversely affected by ongoing restrictions on cross-border trade between Hong Kong and mainland China, as well as increased competition.
However, Nestlé had previously cited other issues in China pertaining to the sector. It said in February the underperformance of its Chinese business was related to declining birth rates and fewer mothers choosing to breast feed. And French dairy giant Danone said it had also seen infant-formula sales in China contract due to cross-border closures from Hong Kong into China.
Reckitt's Chinese infant-formula business has had issues for some time, and the company was forced to book an impairment charge in 2020 amounting to the dollar equivalent of $5.04bn related to the Mead Johnson deal. Mead Johnson itself had also experienced declining sales before the 2017 acquisition, even though there was some improvement after the transaction.