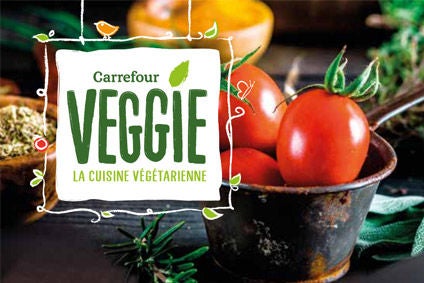 Carrefour has launched a line of own-label vegetarian products in France, with the retailer saying it is the first grocer in its domestic market to roll out a private-label range in the category.
Eleven of the 16 products in the Carrefour Veggie line are also suitable for vegans, the company said.
Carrefour described the food as "a varied and affordable range featuring many simple and easy-to-cook formats", including wheat and onion nuggets, tofu burgers and cereal and vegetable pancakes. The product, stocked across chilled and frozen, are on sale at between EUR2.10 (US$2.24) and EUR3.50. They are available across all of Carrefour's store formats and are also being sold on its e-commerce sites.
The catalyst for the range came from a consumer's suggestion to Carrefour when the retailer marked the 50th anniversary of the establishment of the company. The grocer run a campaign called If I were Carrefour and asked for votes on a range of ideas submitted online. Carrefour said "significant numbers" expressed interest in a vegetarian range.