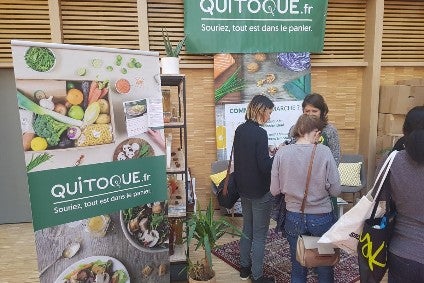 French supermarket Carrefour has acquired a majority stake in meal-kit delivery start-up Quitoque.
Founded in 2014 by Grégoire Roty, Etienne Boix and Céline Nguyen, Quitoque delivers to people's homes through a subscription service, providing meal kits using local, organic and seasonal produce, predominately sourced in France.
In 2017 the company delivered three million meals throughout the country. It employs 60 workers.
Quitoque, which claims to be a pioneer in food-tech, will still be managed by its co-founders, who will continue to develop the company in conjunction with Carrefour.
The financial details or terms of the transaction were not disclosed, nor the size of the stake.
Quitoque co-founder Boix said: "This transaction confirms the relevance of our model and will enable us to capitalise on Carrefour's strengths to accelerate our omni-channel development."
Carrefour's investment will enable the supermarket to expand its food e-commerce offering, in line with the group's "ambition of creating an omni-channel universe of reference and becoming the world leader in the food transition for all".
Marie Cheval, executive director for customers, services and digital transformation at Carrefour, said: "At the crossroads of digital and food, Quitoque will enable us to strengthen our position in the food-tech industry in order to provide an omni-channel response to new consumer habits through the combination of proximity, convenience and quality."