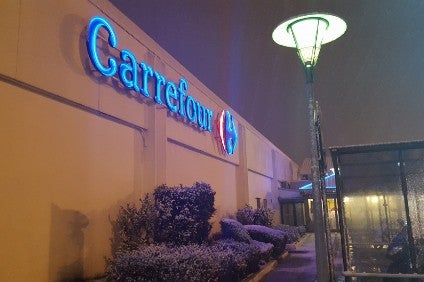 Carrefour has announced the launch of what it claims is Europe's first "food blockchain" and plans to extend the technology to eight more product lines before the end of 2018.
The French retailer is already using blockchain technology initially for its Auvergne brand free-range chickens and plans to roll it out to products such as eggs, cheese, milk, oranges, tomatoes, salmon and ground beef steak.
"This is a first in Europe and will provide consumers with guaranteed complete transparency as far as the traceability of our products is concerned," explained Laurent Vallée, Carrefour's general secretary and head of quality and food safety.
Carrefour claimed blockchain technology would bring numerous benefits to the food sector such as meeting consumers' increasing need for transparency while, for suppliers, providing a means to showcase what they produce and their expertise.
"Carrefour will be able to use it to share a secure database with all of its partners and guarantee higher levels of food safety for its customers. In concrete terms, each product's label will feature a QR code which consumers will be able to scan using their smartphones," Vallée said.
The code will provide consumers with information about the product and the journey it has taken – from where it was reared right up to when it was placed on the shelves.
In-depth from just-food: The potential for blockchain in the food industry