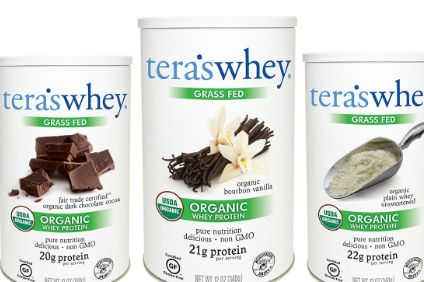 Carrington Farms, the US organic and natural foods business, has acquired whey protein firm Tera'swhey for an undisclosed sum.
New Jersey-based Carrington Farms markets products including cooking oils and ghees, which are distributed throughout the US.
Wisconsin-based Tera'swhey was founded in 2009 and produces whey protein from grass-fed dairy cows in its home state.
Carrington Farms suggests Tera'swhey products and approach are very closely aligned with its real food philosophy which embodies the ideals that the brand will only make the product if they would feel confident in feeding it to their own family.
It said the acquisition will help accelerate its efforts to deliver protein powders that meet consumers' changing tastes and preferences and drive innovation in the health and well-being space within the protein powder set, while giving the company even more access to supplement purchasing customers and channels.
David Eben, Carrington Farms' chief executive officer, said: "At Carrington Farms, we are always aiming to provide simple, clean and real products to our consumers and adding Tera'swhey to our parent brand portfolio is a representation of our commitment as a leading natural foods company.
"The seamless match-up between Tera's core values with Carrington's is one that brings great promise and we're thrilled to have the opportunity to propel Tera's forward."