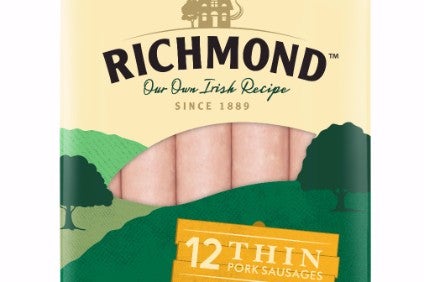 UK campaign group Consensus Action on Salt and Health has called for the country's government to legislate on the amount of salt in foods, pointing to the levels of the ingredient in sausages as evidence not enough progress has been made using voluntary targets.
The UK government began a programme of reformulation work with the food industry aimed at reducing the amount of salt in processed food. Voluntary targets were first set in 2006 for 80 categories.
The limits were revised in 2009, 2011 and 2014 to take account of progress. The 2014 targets are to be met by the end of this year but CASH claims there is "little monitoring and many companies chose to abstain". It argues mandatory targets "would create a level playing field for the industry".
With under four weeks to go until the end of the year, CASH today (6 December) published a study of the amount of salt in sausages sold in the UK. It said the findings showed "shocking and excessively high amounts of salt in certain sausage brands".
Professor Graham MacGregor, the professor of cardiovascular medicine at Queen Mary University of London and the chairman of CASH, said: "The UK has led the world on salt reduction but this survey clearly shows that many companies are not cooperating with the current voluntary policy. Public Health England, who is now responsible, must get tough on those companies not complying and set new mandatory targets to be achieved by 2020 without further delay. Otherwise, thousands of people will die from unnecessary strokes and heart attacks every year. Salt reduction is the most cost-effective and most successful public health preventive measure made to date and it is a national tragedy that it is being allowed to fail."
CASH said its survey found the average salt content of sausages is 1.3g per 100g, or 1.16g of salt per two sausages – a figure the campaigners said was "relatively unchanged" since 2011 and exceeded the salt reduction targets in place at that time.
The NGO described Kerry Group's Richmond brand as "the worst offender", with its sausages containing 2.2g or 2.3g of salt per 100g, topping the poll.
CASH said: "The salt content of their sausages has remained consistently high since at least 2011, suggesting that they have made no effort to reduce salt in their sausages."
Asked if Kerry had moved to cut the level of salt in Richmond sausages or had plans to, the company said: "We pride ourselves in making products that do not compromise on the great taste that our customers love, and continue to recommend that these products are consumed as part of a healthy and balanced diet."
UK-based up-and-coming sausage business Heck saw two of its products feature at tenth and eleventh spot in the study by level of salt per 100g, although the lines were among the lowest when looking at their saturated fat content.
Debbie Kebble, Heck co-founder, told just-food: "Our focus has been on lowering fat content without compromising taste but we have now turned our attention to salt and you will see this reducing over time to meet government guidelines, as we replace our packaging. We have been exploring other ways to take out the salt, such as using miso, but have decided against using it in our sausages as it is an allergen."
Meat-alternatives business Quorn Foods was also singled out in the survey. CASH said the amount of salt in Quorn's 4 Best of British Sausages had 1.9g of salt per 100g, which it claimed was more salt than in half a Margherita pizza sold at Pizza Hut.
In response, Quorn said: "The range featured by CASH is Quorn's Best of British Sausages which offers slightly more indulgent sausages, with 1.9g of salt per 100g. Whilst they are higher in salt, as clearly marked on pack, they are still low in saturated fat.
"Quorn produces a range of sausages, with its bestselling Quorn Sausages having a salt content is of 1.2g per 100g for 336g of Quorn frozen sausages and 1.1g per 100g for 250g of Quorn chilled sausages, making both options a healthy source of protein."