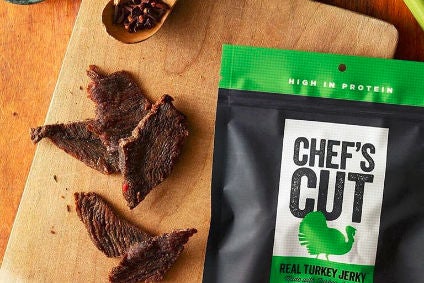 US fund CAVU Venture Partners has announced a US$2m investment in local jerky manufacturer Chef's Cut Real Jerky.
The deal follows CAVU's recent investment alongside General Mills in US cottage cheese maker Good Culture.
Chef's Cut Real Jerky is co-founded by Blair Swiler and Dennis Riedel. It uses "hand-cut, premium pieces of meats" marinated with real ingredients and cured using a proprietary smoking process.
High-in-protein, low-in-fat, and gluten free, Chef's Cut Real Jerky boasts to appeal to everyone from professional athletes to everyday individuals.
"Chef's Cut is the best tasting, and now the fastest growing jerky in the country. It's the perfect snack – offering consumers a high protein, low carb and chef-crafted flavour that's perfect for an on-the-go lifestyle," said Rohan Oza, co-founder of CAVU Venture Partners. "CAVU is very excited to invest in this amazing product and team."
The jerky is available at retailers across the US including Costco, Target and Kroger.
"The momentum behind this brand is tremendous. The high consumer demand for Chef's Cut in the marketplace has been closely followed by investor interest," said Bart Silvestro, CEO of Chef's Cut. "Although we were oversubscribed in our last round of funding, we wanted to make sure we got CAVU involved as they are more than investors. CAVU is a true partner, and no one has more experience taking quality products mainstream. We are incredibly excited to work with this team."