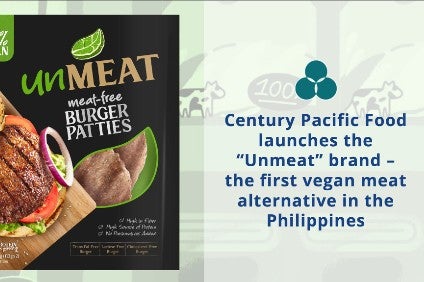 Century Pacific Food, a meat and seafood products manufacturer in the Philippines, is launching a plant-based brand in the country's retail channel.
The Manila-based business said the UnMeat brand is the "first vegan meat-alternative" in the Philippines. It has started off with plant-based burgers, which were rolled out in the company's foodservice operation – Shakey's Pizza Asia Ventures – in October with more products to follow in the "next few months", a spokesperson confirmed. UnMeat will feature in retail and the out-of-home sectors.
Century Pacific also produces milk products and also canned coconut cream. Seafood – tuna and sardines – is the largest part of the business, accounting for 47% of last year's PHP40.5bn (US$838.8m) in sales, followed by meat (36%) and milk (14%), according to the company's annual report. Net profit was PHP3.15bn.
Christopher Po, executive chairman of the company, said in a statement: "We believe UnMeat is a valuable addition to our brand and product portfolio as more and more Filipinos embark on healthier lifestyles. At the same time, this initiative supports both our ambition to become a healthier food company and to do business in a more sustainable and responsible way."
UnMeat patties are made with non-GMO plant-based ingredients, with zero cholesterol and trans fats.
The company, which also supplies own-label products for retailers, said it "celebrated its first year of being 100% plastic neutral earlier this year, following a push in 2019 to be plastic neutral by 2020".