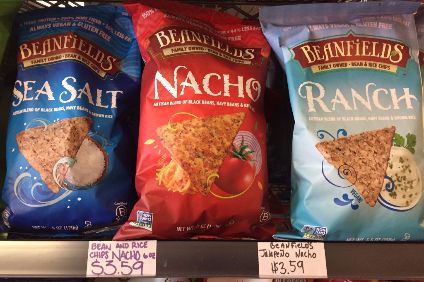 US tortilla chip business Beanfield Snacks has announced changes to its investor base, with a consortium led by venture fund Powerplant Ventures taking a "majority, controlling investment" in the company.
The consortium, which also includes Powerplant Ventures founder Mark Rampolla and media investor Bruce Friedman, has acquired control of Beanfields from the Glidden family.
The transaction also sees Homeboy Industries, a US gang intervention, rehabilitation and re-entry programme, take an equity stake in Beanfields. Homeboy Industries will have a stake of around 5-10% in Beanfields and will share in the revenue of the business, taking 1% of its net sales.
Beanfields, set up in 2011, sells its gluten-free, Non-GMO Project Verified chips across the US. The brand is present in Canada, Australia and the UK.
"The Beanfields team has built a great brand, rooted in deep social values, that makes some of the best-tasting, most nutritious chips on the planet," Rampolla, who will become co-chairman of Beanfields, said.
Reed Glidden, who founded Beanfields with his wife Liza Braude-Glidden and his brother Roy, added: "I could not be happier that we found partners in Mark and Bruce that not only share our mission to remake the food industry but that also share our values about doing so in a socially responsible way."
Tom Vozzo, the CEO of Homeboy Industries, said the organisation was "honoured that Beanfields – a socially consciousness company with a commitment to giving back – will be entering into an ongoing revenue-sharing partnership with us". He added: "This innovative ownership structure will allow us to continue to scale the impact of our work and serve the community."