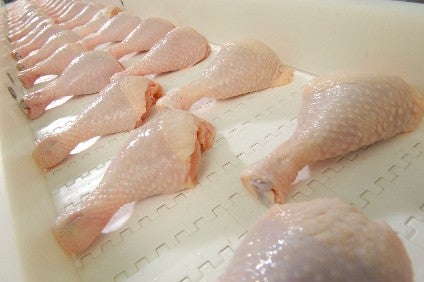 Thailand's Charoen Pokphand Foods aims to increase its poultry exports to the EU after being granted Germany's QS Standard.
CPF revealed it plans to export 70,000 tonnes of chicken and chicken products worth THB10bn (US$285.3m) to EU markets throughout 2017. The company held a ceremony this week to mark its first shipment of QS-certified poultry products bound for Germany.
During the event, Virachai Ratanabanchuen, chief operating officer of CPF's chicken business, said the QS Standard signified the company's commitment to quality and safety.
"The QS Standard sends a message to Thai consumers that they will enjoy CPF's chicken produced by a process considered as safe and as quality as the one enjoyed by Germans and the EU citizens," Virachai stated. "What's more important is by receiving the QS Standard, CPF is able to get more orders from German and the EU customers."
The company has indicated it wants to grow group-wide sales by 10% during 2017, with higher revenue coming "mainly" from its international business.
Last year saw CPF make a series of investments to expand overseas. Within the EU, CPF struck a deal to acquire a 33% stake in Poland-based family-operated poultry export group SuperDrob and purchased a majority stake in UK foodservice supplier Foodfella.