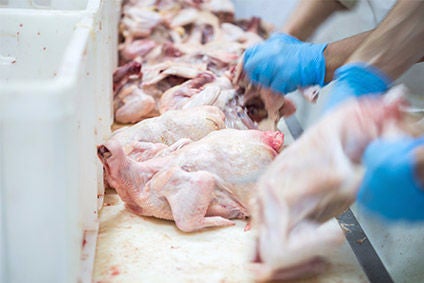 CP Pokphand Co., the Hong Kong-listed animal feed and meat processing venture in which Thai food group Charoen Pokphand Foods owns a majority stake, has struck a deal to buy a poultry business in northern China owned by state-backed agri-food giant COFCO.
Charoen Pokphand Foods said CP Pokphand Co., in which it holds a 50.4% stake, had agreed to buy COFCO Suqian, a poultry processor that supplies chicken products mainly to the Yangtze river delta market.
The CNY187m (US$27.2m) acquisition will be made through Chia Tai (China) Investment Co. Ltd, a subsidiary of CP Pokphand Co.
COFCO Suqian generated revenue of CNY642m in 2015 but booked a net loss of CNY83m, Charoen Pokphand Foods said. In the first nine months of 2016, COFCO Suqian made revenue of CNY496m and ran up a net profit of CNY7m.
"The acquisition will allow CPP to expand its agri-food business in the PRC and further reinforce CPP's leading position in the agri-food industry," Charoen Pokphand Foods said in a filing to Thailand's SET stock exchange.
Last month, CP Pokphand Co. agreed to buy 70% of Chinese poultry firm Fujian Sumpo, which processes chicken meat products and manufactures animal feed. In 2015, the company generated revenues of CNY1.32bn but made a net loss of CNY30m, Charoen Pokphand Foods said.