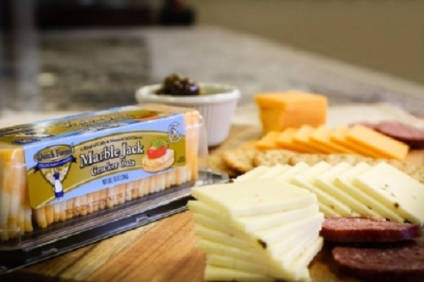 US Dutch Farms' new Cracker Cuts cheese slices will hit shelves in grocery retail chains across the Chicago area from this month.
Each 10-ounce resealable pack contains 20 slices of the Wisconsin-made Cracker Cuts cheese, available in the traditional, Dutch Farms flavours of sharp cheddar, marble jack and pepper jack.
Dutch Farms cheese is made from the milk of the country's Midwest dairy cows and the Cracker Cuts cheese squares, manufactured in Plymouth, Wisconsin, "are designed to fit any cracker".
Family-owned Dutch Farms offers a range of dairy, deli, meat and bakery products. The company said: "Recognising the need for a convenient snack or easy entertaining solution, Dutch Farms jumped on the opportunity to better serve their customers. Continuing to keep their consumers in mind, Dutch Farms Cracker Cuts are packaged in a re-sealable container so Cracker Cuts cheese can be enjoyed on more than one occasion without sacrificing grade-A freshness."