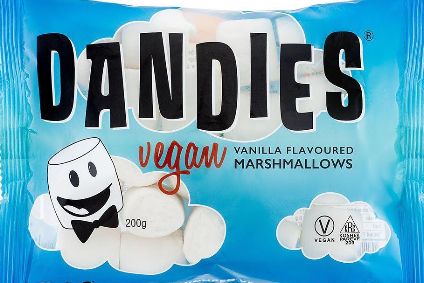 Privately-owned Chicago Vegan Foods is to embark on its first concerted push outside North America, with the official launch of its flagship brand overseas this month.
The company has secured a listing at UK grocer Asda for its vegan-marshmallow brand Dandies.
Dan Reed, the director of marketing at Chicago Vegan Foods, said Dandies had been sold, through imports, by "some smaller niche-space retailers all over the world at specialty prices" but described the upcoming launch in the UK as "the first time we're really hitting your market with good, cost-effective pricing".
Reed said Asda, the UK's third-largest grocer, was stocking Dandies as part of a "new vegan and vegetarian set" of products, encompassing two bays in stores. "Mid-September is when they do the initial launch. It's a limited number of stores. I believe it's somewhere between 100 and 150 stores. And then, in early October, they will be launching that set in 100% of their stores. So, within the first month, we'll have complete coverage in Asda," he told just-food.
Chicago Vegan Foods, which sells the Dandies brand throughout the US and Canada, said the vegan market in the UK compared favourably to that in the company's backyard.
"Vegan is so much more accepted – and has been much more accepted over the years there. That was one of the reasons why it's always been on our radar," he asserted. "We're such a large country, and there are so many different personalities scattered about regionally. A lot of the acceptance with plant-based foods vegan foods has really started in the bigger cities and that takes some time to sort of spread out into smaller regions in the US. It's changing in the US, it's becoming a lot more accepted now but it's been, throughout our careers, with this brand or company, it's been a bit of an uphill battle."
In the US, Reed said Dandies had "got 97% coverage within the natural market" and the company's plan to grow the brand's sales was through more mainstream outlets. "We see our growth plans for the future in conventional grocery," he said. "We're just barely scratching the surface on that. Consumer habits in the US have also shifted over the past couple years, where customers are shopping less and less in natural consumers and they're shifting their shopping over to the conventional stores, where they are starting more of a one-stop shop. These conventional grocery stores are picking up more and more natural food items. Customers don't have to go and shop at three, four different stores to get all the products they want. They can really get them all in one place."
Reed, who is a minority shareholder in Chicago Vegan Foods, said the company does not disclose its annual sales. The firm has two, smaller brands – Teese vegan cheese and Temptation vegan ice cream – which are both aimed at the foodservice market. Dandies accounts for the majority of the company's revenues, Reed noted.
Asked how Covid-19 had affected the trading performance of Chicago Vegan Foods so far, Reed, focusing on Dandies, said the brand's sales were initially affected by shoppers focusing on "essentials" but then demand grew, boosted by consumers spending more time at home. "Fast forward about a month into it, we started to see a pretty big increase in demand for our products, stores were replenishing and, while people were spending far more time at home, they were doing things like a lot more home baking. They're spending more time in the backyard roasting marshmallows. We started to see a pretty, pretty big increase so the impact was actually positive," he said.