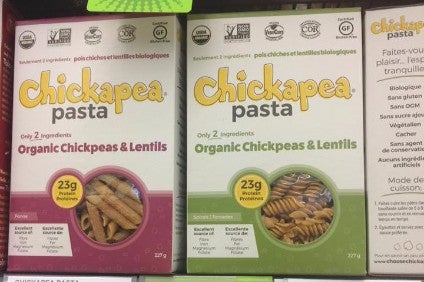 Canada's Chickapea pasta company plans to expand its presence in the US after receiving funding from District Ventures Capital.
Arlene Dickinson, CEO of District Ventures, which is backed by Canadian food processor and retailer George Weston Ltd, will join the pasta firm's board. She said the funding will help Chickapea increase distribution and brand awareness. The finer details of the financing deal were not disclosed.
Chickapea uses organic chickpeas and lentils to produce gluten-free pasta and avoids binders such as rice, tapioca flours, xantham gum and pea protein. It added American retailers to its market mix earlier this year and supplies more than 1,000 outlets including Whole Foods in both Canada and the US.
President and CEO Shelby Taylor, who founded the company in 2014, said: "For Chickapea, [our goal is] to become a household name for nutritious family favourites across North America – a name people can trust for simple, clean, organic ingredients and great taste."